Kat Perez's internship doesn't involve a desk. Instead, she's helping to grow an emerging food source for the island: shrimp!
Tucked away over the cliffline of Mangilao on the rugged eastern coast of Guam, lime green, lemon yellow, and amber-colored liquids are gurgling in five-gallon jugs in a small lab. It seems like an intriguing opening scene of a Marvel movie, but it's actually just part of Kat Perez's morning routine.
"That's the culture," she says, pointing to the jugs of liquid. "That's what you feed the shrimp larvae, so that always has to be constantly 'upscaled,' is the word we use. So they start in these 200 milliliter tubes for a set amount of days. Once it reaches that mature day, you upscale it to a bigger flask with the necessary nutrients, and so on, until they get fed out."
Perez, an agriculture major and biology minor at the University of Guam, is one of seven UOG students so far to have interned at the Guam Aquaculture Development & Training Center, a farm and research station under the UOG College of Natural & Applied Sciences. Also known as the Fadian Hatchery, the facility is located a short drive from campus on a five-acre site.
In partnership with CoreSeed Aquaculture (Guam) Corp., the hatchery breeds, farms, and researches shrimp — specifically, Pacific white shrimp — as well as black tilapia and salt-tolerant red tilapia. These products are then sold to local restaurants and hotels, to the Guam Fishermen's Co-op and also exported to off-island markets.
When student internships at the facility came available under the Beginner Farmer & Rancher Development Program — funded by a U.S. Department of Agriculture grant through the Research Corporation of the University of Guam — Perez was excited to embark on a learning opportunity outside of the classroom.
"I wanted more on my resumé, more application in the field," she says. "Agriculture is such a broad field … I just wanted to experience what it's like in the aquaculture field to see if I want to do this for the rest of my life."
In her free time, Perez raises bees and harvests crops at home. She also previously worked as a husbandry assistant at a local aquarium.
The internship provided her a stipend through the grant, giving her income and valuable career experience as well as knowledge to potentially start her own farm or business.
Perez worked as an intern in the facility's microalgae lab for a few hours every day from May to December 2021. Her work required daily upscaling of the algae culture and "a lot of cleaning," she says with a laugh.
"It's a lot of hard, laborious work — and unpredictable. Every day is something new," she says.
But it's rewarding, too. "I learn something every day," she says, adding, "We see [the shrimp larvae] grow, and you feel so happy and proud."
Hui Gong Jiang, an associate professor of aquaculture at UOG since 2007 and a researcher at the hatchery, says the program is best suited to students who "are motivated to learn, to get involved, to not be reluctant to get their hands or clothes wet."
"In the field, we have to work to see what this is all about, all the aspects involved," she says.
Because the shrimp life cycle has been closed with the specific pathogen free status established for many years here, following specific biosecurity protocols is a big part of work at the hatchery.
"We are not importing any shrimp with unknown or inferior health status. That's why we're very careful with the health status of the shrimp," Jiang says, adding that developing the specific pathogen-free shrimp that the facility farms involved years of work and resources.
"We've spent years working on this project, but that could get lost if we are not careful. That's why we're so serious about it," Jiang says.
In practice, Perez says, this means a student working at the hatchery might have to adjust their diet if they often eat seafood.
"Prior to my first day, the first thing we talked about was biosecurity and cross-contamination," she says. "That's intense stuff. We're not allowed to eat any shellfish — to be safe, seafood — if we're going to work the next day."
Sacrifices like these, however, are a small part of developing and promoting a sustainable aquaculture industry in Guam.
"It's different from doing it at home, like farming at home," she says. "It's different when you're actually doing it as a job because of the intensity and the importance of knowing what you're doing."
Getting students familiar with aquaculture is not only beneficial to the students in their future careers or farming endeavors. It's also beneficial to the community at large in training people to develop and maintain a sustainable industry for the island.
Jiang says student interns learn about the overall setup of the facility's operations.
Participants collect samplings for diagnostics and performance data, for example, and they get hands-on with feedings and water exchange in the facility's large outdoor ponds, tanks, and raceways teeming with tilapia and shrimp.
They also get involved in the hatchery's business-related activities, assisting with preparing products for shipment off island. Perez says the days they would harvest shrimp were among her favorite in the program.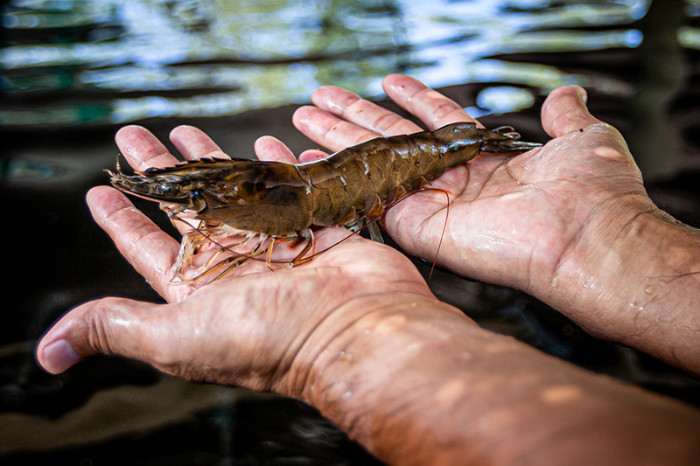 "When you see that growth and you see how big they get and they're going out to the markets, you really see why things are priced this way, especially on island," she says. "And comparing the quality, when we would eat the shrimp, it's like — the taste is amazing. And they're big — bigger than your hand, really thick."
Hands-on learning experiences for students at the hatchery can ultimately benefit the community as individuals learn how to produce more food sources locally, rely less on imported products, and employ people in the process.
"If we have an industry that's sustainable, that's also for the community to have a good food source, and the job opportunities that are created," Jiang says.
Resumé-building experiences: 'I'm doing everything I can'
Perez, now a junior at the university, says she's still considering what she wants to do after completing her undergraduate studies. She may pursue her master's in marine biology, ecology, or environmental science, and possibly continue on to get a Ph.D.
"I'm doing everything I can, which is why I was very open to do aquaculture, even though I knew nothing about it," she says.
For now, she looks back fondly on her time as an intern at the Fadian Hatchery, knowing she contributed to work and research that benefits her island.
Get involved in an internship
One way for students to get familiar with aquaculture is to take AL-136 Science of Aquaculture, a general education course taught every fañomnåkan semester by Dr. Hui Gong Jiang. In the three-credit lecture and one-credit lab, students learn about aquaculture in a systematic way and can supplement their learning with a potential internship at the hatchery.
Additionally, paid internship opportunities are recurring through the Beginner Farmer & Rancher Development program. Students interested in internships at Triton Farm can contact Rita Barcinas at barcinasr8861@triton.uog.edu, and those interested in internships at the Guam Aquaculture Development & Training Center can contact Dr. Jiang at hgong@triton.uog.edu.